Russia has launched its first moon mission in almost 50 years.
A rocket carrying a lunar landing craft blasted off from the Vostochny spaceport in the far eastern Amur region.
Russia launches lunar spacecraft – war latest
It's expected to reach its destination on 23 August, the same day as an Indian vessel that launched last month.
Russia's craft, Luna-25, will take about five and a half days to travel around the moon, and then spend up to a week orbiting before touching down on the surface of the moon's south pole.
Its mission is to collect samples of rock and dust to get an understanding of the environment for a potential base.
The south pole is of particular interest to scientists, who believe its permanently shadowed polar craters may contain frozen water that could one day be transformed into air and rocket fuel.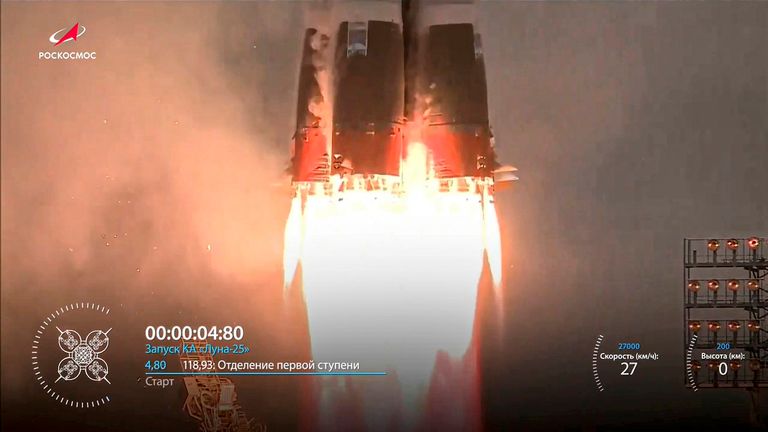 Read more on Sky News:
Virgin Galactic takes first tourists to edge of space
Why billionaires are drawn to 'extreme tourism'
Russia wants 'space superpower' status
Most Read
Mountaineer denies group stepped over dying porter during world record K2 climb

Russia launches first lunar spacecraft in 47 years in face of sanctions; UN 'appalled' by deadly strike on hotel used by officials | War latest

Pedro Pascal visits Margate exhibition dedicated to him – but fails to get in

Women's safety in Greater Manchester Police custody under review

Death toll rises to 55 after deadly flames overrun Hawaiian town; Biden declares 'major disaster' | Maui fires latest
Friday's launch marks Russia's first lunar mission since 1976, when it was part of the Soviet Union (USSR).
The USSR is one of only three governments to manage a successful moon landing so far, along with the US and China.
Russia's space agency, Roscosmos, has been keen to prove itself as a "space superpower" since the invasion of Ukraine saw it lose access to Western technology.
It said it wanted to prove Russia "is a state capable of delivering a payload to the moon" and "ensure Russia's guaranteed access to the moon's surface".
Be the first to get Breaking News
Install the Sky News app for free
Despite being widely ostracised from the West by sanctions which has impacted its space programme, the country remains part of the International Space Station programme for now.
It will leave next year, as work continues on its own orbital outpost.