The head of MI5 has made an unprecedented public appearance alongside his counterparts from the US, Canada, Australia and New Zealand, to warn that companies, large and small, are unprepared for the threats posed by artificial intelligence and other emerging technologies.
Speaking to Sky News at the summit in Silicon Valley, the director general of Britain's Security Service, Ken McCallum, said: "Right now emerging technology is coming through – AI is the most obvious example – which is capable of changing our world at a pretty fundamental level.
"Authoritarian states know that and are seeking to win the race to acquire as much advantage as they can in the growth of those exciting technologies.
"The states that lead the way in these technologies will wield immense power.
"And I would like for the citizens of the western democratic nations to be the beneficiaries of the outcome of that race, rather than to have that power in the hands of states who do not share our values."
Mr McCallum, who has been the head of Britain's domestic security agency since 2020, joined members of the Five Eyes intelligence partnership for the first Emerging Technology and Securing Innovation Security Summit in California.
Bringing business leaders, entrepreneurs, and academics face-to-face with the top security chiefs from five nations, Mr McCallum said: "The UK is seeing a sharp rise in aggressive attempts by other states to steal competitive advantage.
"It's the same across all five of our countries."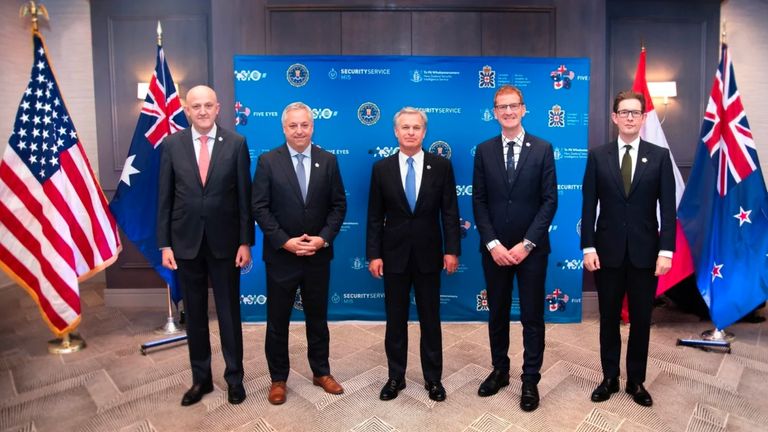 In Britain, MI5 has an existing relationship with certain companies deemed to be of high risk, including those involved with critical infrastructure.
But faced with that fast-growing threat, Mr McCallum said he now hoped to use this unprecedented public-facing initiative to reach 10 times as many companies, including many which would not realise they could be at risk.
"A much wider range of people…", the MI5 director general said, adding: "Researchers in our universities, people working in start-up companies, working on technology, people of those sorts are relevant to national security in a way that might not have occurred to them before."
He appeared alongside his Five Eyes counterparts, including FBI Director Christopher Wray, in an attempt to alert companies, large and small, about the threats they face, predominantly from China.
Sir Tony Blair: 'US and China have to cooperate' on AI

Mr McCallum told Sky News: "I'm deliberately talking in terms of authoritarian states. We do see hostile activity coming from Putin's Kremlin, from the Iranian regime, and potentially, at times, others also.
"It's not all about China, but when it comes to emerging technology, their most important set of risks are coming from the Chinese government. Yes."
He warned: "We all need to be aware, and respond, before it's too late."
Be the first to get Breaking News
Install the Sky News app for free
Read more:
ChatGPT creator expresses concern about 'under-regulation'
Twelve challenges with AI that 'must be addressed'
Powerful AI systems 'cannot be controlled' and are 'causing harm'
Mr Wray told Sky News: "In our work in this area over the last few years, I think the FBI has seen about a 1,300% increase in investigations over the last several years… that are specifically focused on efforts to steal intellectual property or trade secrets or things along those lines that almost invariably trace back to government of China.
"We're at well north or somewhere in the ballpark of about 2,000 investigations. Again, just focus on China's efforts in this space."
The five governments have released a joint five-point set of principles to help companies secure their innovation.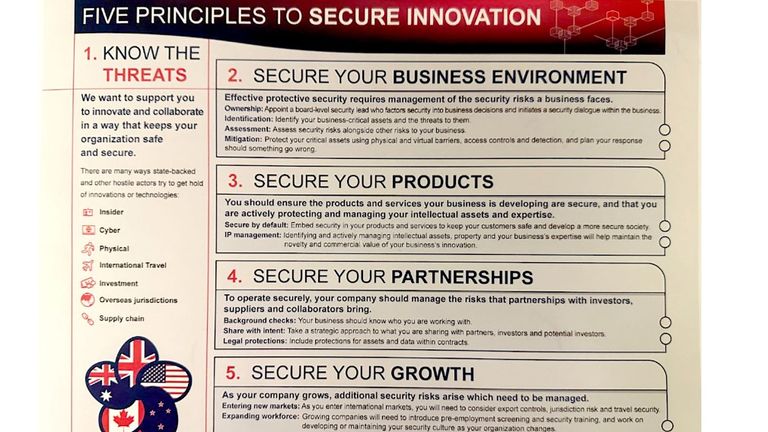 The intelligence leaders will sit down with private sector leaders for in-depth discussions about expanding and strengthening private-public partnerships in order to better protect innovation and the collective security of the five nations and their citizens.
The Five Eyes coalition was formed in 1946 and allows the five nations to enhance their intelligence sharing and better coordinate their domestic and international shared security.