A man has been jailed for the insider trading of non-fungible tokens (NFTs) – in what prosecutors say is the first case of its kind.
Nathaniel Chastain was working as a product manager at OpenSea, which is the world's biggest marketplace for the crypto collectibles.
The 33-year-old purchased NFTs that he knew were going to be featured on the site's homepage, and later sold them for a profit.
What is an NFT?
NFTs took the world by storm in 2021 – with everyone from Snoop Dogg to Donald Trump releasing their own collections.
"Non-fungible" effectively means each piece of artwork is unique, or a small number of them have been created.
An example of a fungible item is a banknote – if Kate gives Gemma a tenner, Kate wouldn't care if she later received a different banknote back.
Plane tickets are a good example of something that's non-fungible. While they may look the same, each one has a different seat number, class and destination. If Kate gave Gemma a first-class ticket to Sydney, she might be upset if she was given an economy ticket back.
Mike Winkelmann – a digital artist known as Beeple – smashed records by selling an NFT for a whopping $69m (£54m).
While prosecutors had wanted Chastain to spend 27 months behind bars, he was sentenced to three months in prison and 200 hours of community service.
He'll also have to pay $50,000 (£39,280) and forfeit cryptocurrency worth $26,000 (£20,420).
The judge said the punishment was "difficult" to decide, and raised doubts about whether the case would have reached court if it wasn't in the "slightly sexy" new arena of crypto.
Chastain will remain free on bail until November and is planning to appeal the verdict.
His lawyer had requested no prison time given how he had already lost his job and equity in OpenSea that was worth millions of dollars.
But during the hearing, he said: "I let down the company I was serving and lost sight of the person I aspired to be."
Read more crypto news:
Sam Bankman-Fried jailed after bail revoked
Amateur rapper pleads guilty to laundering Bitcoin
Crypto project that scans eyeballs investigated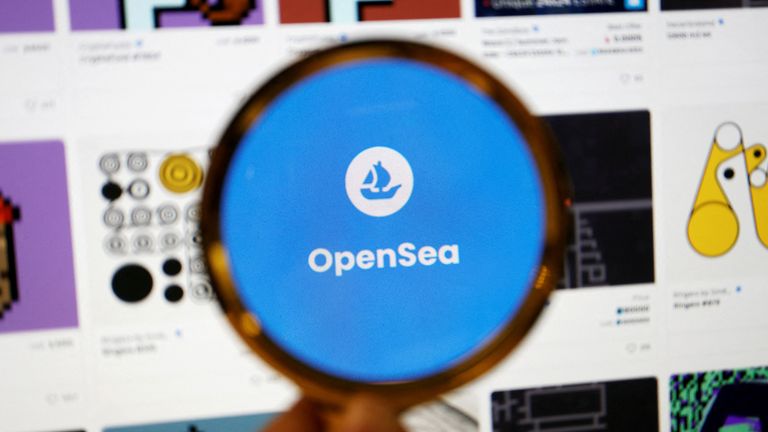 Earlier this year, a former product manager at Coinbase – an exchange used for buying and selling cryptocurrencies – was also jailed for two years.
Ishan Wahi shared confidential information about the coins that were going to be listed by the company to his brother and a friend, allowing them to make $1.5m (£1.17m) profit.
Be the first to get Breaking News
Install the Sky News app for free