NHS England is set to push back the joint COVID-19 and flu autumn booster vaccination programme in a move criticised by clinically vulnerable patients and leading pharmacists.
While school-aged children will be able to receive the flu shot from 1 September, adults aren't expected to start getting flu and COVID vaccines until October, a month later than recent years.
Sky News has been told by NHS England that the later start time is so sites can co-administer both vaccines wherever possible, to make it more convenient, and to ensure protection in later winter months – typically when viruses are more likely to spread.
But the health service has been criticised for a lack of transparency and communication, as healthcare teams had been preparing to provide the service as usual from September.
Leading Pharmacist Thorrun Govind told Sky News: "This is a change to vaccination provision which is likely to catch patients off guard – given the usual practice of encouraging patients to get vaccinated as soon as possible from September onwards to protect them.
"I am also concerned about the workload on healthcare teams over a shorter period of time. More transparency over the reasoning for this must be provided."
She added those aged between 50 and 64 who are not in 'at risk groups' are also no longer eligible for a free NHS flu vaccination.
"I would encourage the public to be patient with healthcare teams and to check their eligibility for the free NHS flu vaccine so that they are not disappointed," she said.
The delayed start date means that sites will have less time to provide the vaccinations, with the UK Health Security Agency (UKHSA) recommending the autumn booster programme be complete by early December – last year's ended on 20 February 2023.
These shortened timescales will put further pressure on community services at their busiest time of the year.
Be the first to get Breaking News
Install the Sky News app for free
'COVID-19 has not gone away'
Dr Mary Ramsay, director of public health programmes at UKHSA, said: "The COVID-19 virus has not gone away and we expect to see it circulating more widely over the winter months with the numbers of people getting ill increasing.
"The booster is being offered to those at higher risk of severe illness and by taking up the booster vaccine this autumn, you will increase your protection ahead of winter, when respiratory viruses are typically at their peak."
Clinically vulnerable families have questioned the decision to push back vaccinations with cases of COVID currently increasing, driven by the latest strain known as Eris, a strain of the Omicron variant.
Lara Wong, founder of Clinically Vulnerable Families, said: "We are concerned about the delayed start for clinically vulnerable people who will have to wait over a year for their boosters.
"This is particularly worrying in light of the rising transmission of a new COVID variant in the UK which, based on past data, is likely to be exacerbated by the reopening of schools.
"While the NHS Autumn vaccination programme is already facing delays, flu vaccines have been sourced by community pharmacies, making them accessible to private patients ahead of the NHS's rollout to eligible high-risk groups.
"This two-tier approach to vaccination raises further questions about increasing healthcare inequalities."
An NHS spokesman said the vaccination programme "will maximise protection for patients right across the winter months when it is typically colder, and viruses are more likely to spread with people spending more time indoors.
"The NHS is working to ensure a growing number of vaccine sites across England offer both flu and COVID-19 vaccines in the same visit, to make it as convenient as possible for people to get life-saving protection from both viruses ahead of winter."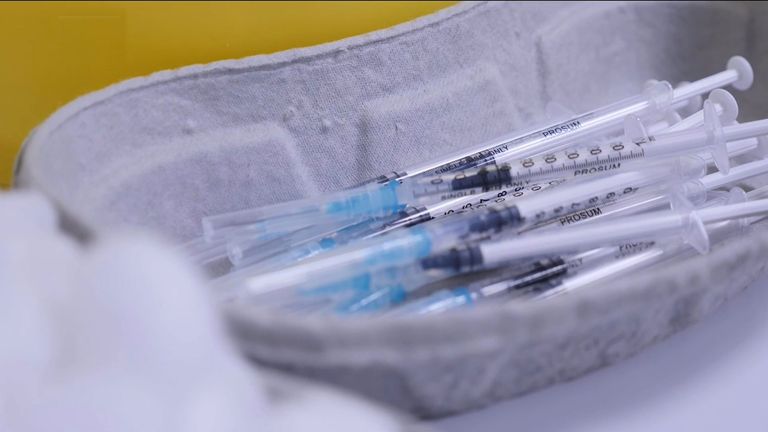 The Joint Committee on Vaccination and Immunisation says the following groups should be offered a COVID-19 booster vaccine this autumn:
• Residents in a care home for older adults
• All adults aged 65 years and over
• Persons aged 6 months to 64 years in a clinical risk group
• Frontline health and social care workers
• Persons aged 12 to 64 years who are household contacts of people with immunosuppression
• Persons aged 16 to 64 years who are carers and staff working in care homes for older adults