Scientists are looking for answers after detecting a leak from a lab on the International Space Station (ISS) – the third such incident in less than a year on a Russian-controlled segment.
Roscosmos, the Russian space agency, confirmed the leak came from a backup coolant system used to regulate the temperature in its Nauka module, which has been operating since July 2021.
The seven-strong crew and the station "are not in danger", according to both Roscosmos and NASA, and there was no impact on the main thermal control system.
Engineers are investigating the cause of the leak, which was reported at around 5pm UK time on Monday, when NASA told one of its astronauts to look for what the ground team called "flakes".
"There's a leak coming from the radiator on MLM," replied NASA astronaut Jasmin Moghbeli, referring to the Nauka module in the Russian segment.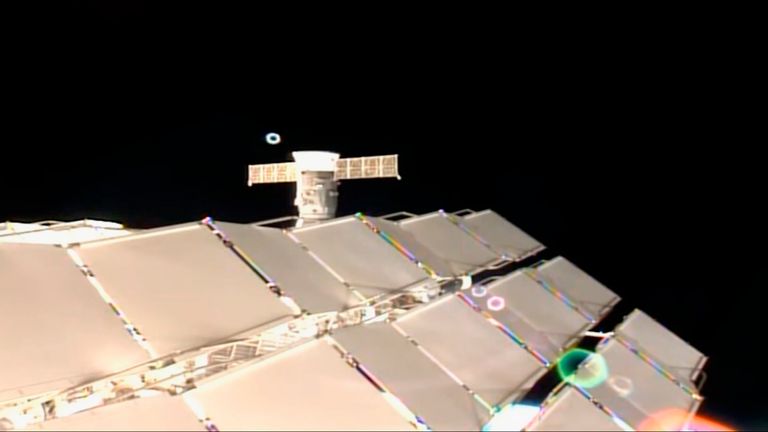 It's the third such leak in the past 10 months, with coolant leaking from Russia's Soyuz-22 capsule in December last year and a similar leak from the country's Progress supply spacecraft in February.
The leak from Soyuz-22 appeared on live video feeds as flaky, snow-like particles spraying into space from the craft's radiator.
The capsule had to be replaced, which delayed the crew's trip home. NASA engineers believe space debris or a tiny meteorite was to blame, after a months-long investigation with the Russians.
Be the first to get Breaking News
Install the Sky News app for free
Read more world news:
Israeli's shock at footage of three generations of his family being kidnapped
At least 29 dead after 'artillery strike on Myanmar refugee camp'
The ISS's structure has aged since its launch in 1998 and NASA is preparing for its retirement around 2030, with hope for privately-built successors, as the agency prioritises returning humans to the moon.
The station, which is roughly the size of a football pitch and hovers 250 miles (400km) above Earth, has housed international crews of astronauts for more than two decades.
Ms Moghbeli and astronauts from Denmark, Russia and Japan arrived at the station in August, while American Loral O'Hara and Russians Oleg Kononenko and Nikolai Chub came on board last month.
With the US in charge of the power grid and Russia responsible for engines, the interdependency represents one of the few remaining forms of cooperation between the two countries.