Like people, products also evolve. But if you are the only one driving the development, the final product may not be the best version of itself.
There are 8.9 million apps that exist in the world right now, and to stand out, you must apply user feedback so you can continually refine your apps.
There are several ways to get feedback from your users. This feedback can revolve around missing feature requests, user expectations, and satisfaction.
In hindsight, the input is prone to distortion. However, if you're asking for feedback in your app while the user is using your app, you'll get a more accurate version of the user's experience and what they want you to improve on.
What is in-app feedback?
In-app feedback allows your users to share their views from within your app by rating you, filling out forms, taking surveys, or leaving comments.
Evernote is a prime example of a brand that collects in-app feedback from their users in real time, allowing them to gauge how their product is performing by asking the right questions below. short survey.
instruct
App Marketing Guide: Crack the Code for Success
Master App Marketing
Who is in-app feedback for?
The short answer is every stakeholder involved in the development of the application. If you own an app or are working on creating one, you need to collect user feedback to accurately gauge the product's usage and condition.
A successful app focuses on a user-first approach, and that requires knowing what users think of the app. This is especially important for user retention and reducing churn, which in turn will lead to better word of mouth advertising and subsequently better user acquisition (UA).
What are the uses of in-app feedback?
Let's look at some digital apps that use in-app feedback tools.
1 – Native Apps
These apps run on a specific operating system like iOS, Windows, and Android.
Whatsapp is a perfect example of a native application that provides a separate interface for each operating system. Other examples of native apps include Twitter, Facebook, Pinterest, and Salesforce.
2 – Mobile site
Mobile versions of desktop sites are supported on mobile devices.
Many sites don't invest in a separate mobile version, forcing users to access their desktop version on mobile devices, providing a poor performance experience and not optimized for mobile devices.
Typically, websites with mobile versions use in-app feedback tools to help continuously improve their user experience (UX).
3 – Native app with web view
These allow you to load web pages in the native application through an embeddable browser, which can be embedded into the native application through an iframe.
The advantage of using web views is that you can reuse parts of the code for your native mobile app as well as for your web based app.
The importance of in-app feedback: Why should you collect it?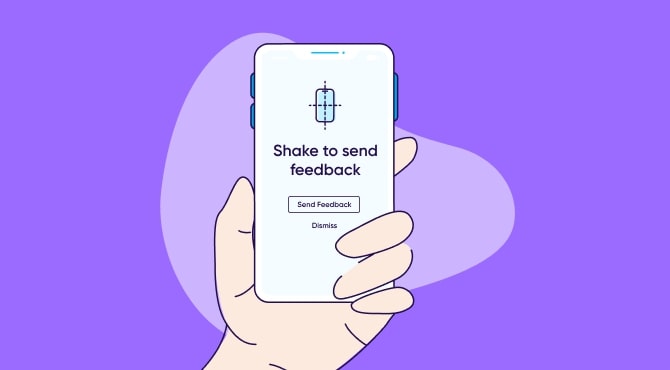 There are many reasons why collecting in-app feedback is essential to the growth and success of your product.
You can fix reported bugs that may have escaped your internal testing.
In-app feedback helps you gauge actual user preferences as opposed to what you think users like.
In-app feedback is time-independent and can be collected at any hour of the day — based on user convenience.
Collecting feedback in the app reduces reluctance on the part of your users. It's right in the app they're using, saving them from having to go to a separate platform to write a review or comment.
As opposed to submitting a survey and waiting for a response, collecting responses in the app offers faster response times.
Cons of in-app feedback
Like all good things, in-app feedback also comes with some limitations. Let's take a look at some of its less-than-stellar aspects.
In-app feedback provides insights into how users feel about your product. However, it doesn't tell you why the user feels that way, and sometimes – context is everything.
If deeply involved in the app, some users may see sudden requests for feedback in the intrusive app and may end up getting annoyed with the experience. So be sure of your response time.
How do I collect feedback in the app?
You can capture feedback in the app in several ways. A stand-alone method or a combination of methods can help you get the best results, based on your product type and needs.
In-app survey
Surveys are an effective way to understand user behavior, and in-app surveys are similar to traditional surveys, except they're embedded inside your app. You can ask your users to fill out required fields and collect all the information you need about their usage and preferences related to your app.
Provided your in-app surveys are short and don't take up too much time, they're more likely to deliver better response rates than traditional surveys.
Rate and review the app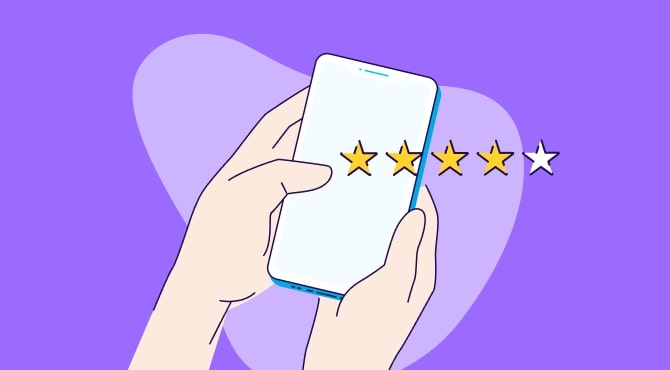 The most common way to collect in-app feedback is to ask users to rate your app. In addition to providing feedback to app developers, ratings let other users know what their fellow users think of your app and what to expect from using it.
App rating is a double-edged sword, in the sense of deterring potential users if your rating is low and the comments are not in your favor. But remember that even a low rating can help you improve your product and potentially expand your game.
In-App Net Promoter Score (NPS)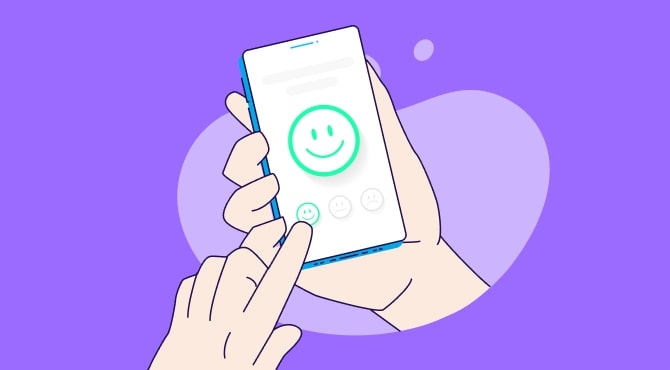 By asking users in your app to give you a net promoter score, you can gain insight into their satisfaction or dissatisfaction with your app and the urgency of improvement based on on your accumulated points.
You have three user segments that assign you NPS scores:
The promoter who gives you good marks
Passive people score somewhere in between
Detractors give you low scores
In-app feedback tips and best practices
To ensure that you get the most out of in-app feedback with minimal inconvenience to your users, there are a few best practices you should follow.
1 – Aggregate feedback from all sources
While in-app feedback is an effective way to gather user feedback, don't overlook other sources such as email surveys, user interviews, and comments on social media and online forums. .
Try and get a big picture by collating responses from all these resources and acting on them based on priority and urgency.
2 – Create better guiding questions
Sometimes, if you just ask the user for a response without a clear direction, you can get a lot of worthless information and no actionability. Instead, be sure to ask better directed questions, which will allow you to gather more information.
3 – No compromise on overall user experience
User experience is the most important aspect of any app usage. If you annoy your users with too much in-app communication, you may end up losing them to your competitors.
So it's important to find the match between a fun, engaging user experience and getting the feedback you need to improve your app.
4 – Wait long enough for users to comment
Imagine that you just bought a shampoo from the supermarket, and the brand manager comes and asks you for feedback before you use it. What if you use shampoo once or twice? Are you willing to provide feedback now?
At this stage, you may not have had enough time to really notice the difference. Similar to the shampoo in this example, you must give the user enough time to use your app and provide an opinion, so that the feedback you get is meaningful, not half-hearted.
5 – Target the right users
Not all users will be able to give you valuable feedback. For example, if you have an out-of-the-box platform (OTT) like Netflix, and want to know how new shows in the comedy genre are doing, then you need to keep in mind that viewers are mostly watching related content. to the action will not give a response. you correct feedback.
Therefore, it is imperative to engage the right users with the right questions so that the most relevant responses can be received.
In-app feedback is the way to go
There are several reasons why feedback is required in the app. It helps to improve the functionality, usability, UX of the app and helps you understand how intuitive it is.
It's also one of the fastest and cost-effective ways to gather feedback from your real-world users to help put your app ahead of the competition.
Getting started with implementing in-app feedback can seem like a daunting task, but getting started as soon as possible can give you a head start in creating a powerful app.