Google celebrated the 25th anniversary of its launch this week – and it's hard to envisage what life was like before.
Few companies have become so integral to society that they become a verb, but the search giant remains the shorthand for looking something up online despite AI threatening the habit.
Google has of course seen off plenty of would-be rivals before (any Ask Jeeves aficionados out there?) – it would be foolish to write off one of the world's best-known brands after all it's been through.
Here are 25 moments that helped get Google to where it is today.
1. Launch day (1998)
In 1996, Stanford University computer whizzes Larry Page and Sergey Brin dreamt up a search tool that could better organise the internet's websites.
Two years later their project was noticed by investor Andy Bechtolsheim, who wrote them a $100,000 cheque.
They used the cash to start an office in the California garage of their friend, and future YouTube boss, Susan Wojcicki.
After buying the domain name Google.com, they got to work.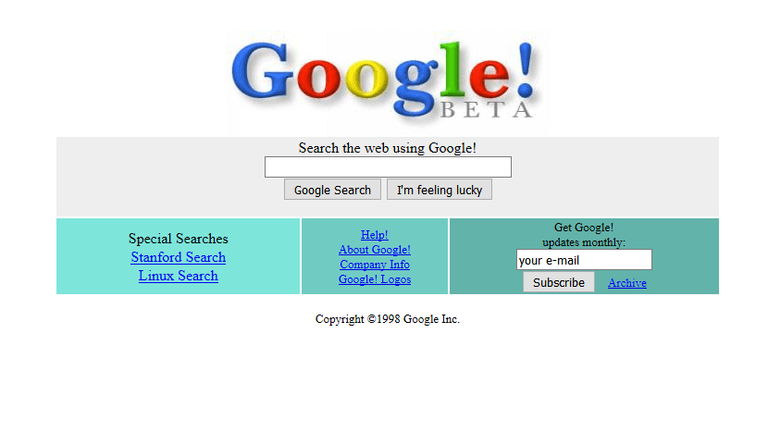 2. Here comes the money train (2000)
Google's growth was rapid and it had moved offices several times by 2000, which is when its transformation into a global behemoth would really begin.
Having set up its own campus in Mountain View, California (the area of Silicon Valley where it's still based), the company launched AdWords.
This allowed advertisers to purchase search terms they wanted to be in the results for – and started a money train that would turn Google into one of the world's richest firms.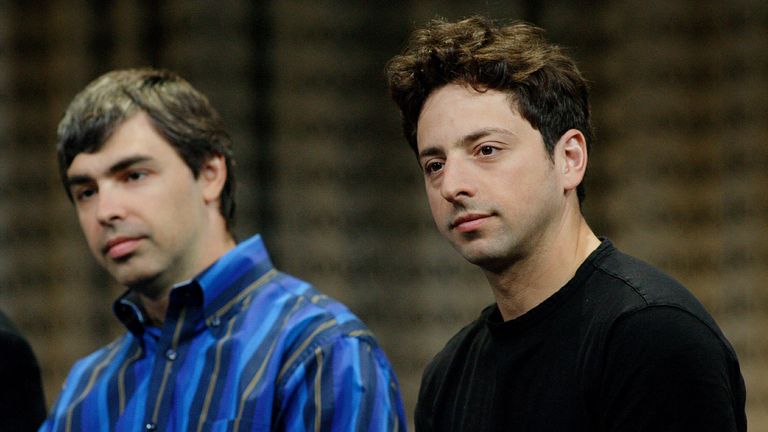 3. Beyond words (2001)
Google had a big year in the boardroom and on its website in 2001, with experienced tech boss Eric Schmidt named chief executive and its co-founders becoming company presidents.
For users, this year saw images added to the website's search results. It was driven by demand for snaps of a dress Jennifer Lopez had worn at the Grammy Awards in 2000.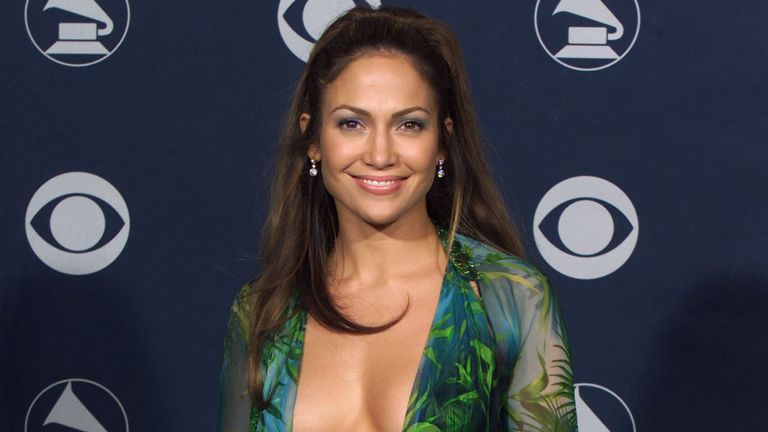 4. From email to Gmail (2004)
Generally you should take anything you see announced online on 1 April with a pinch of salt, but Google's Gmail announcement was no joke.
The free web email client, which now has more than 1.8 billion users, was joined in 2001 by Google Autocomplete, which helped people fine-tune their search queries and would go on to inspire a generation of memes.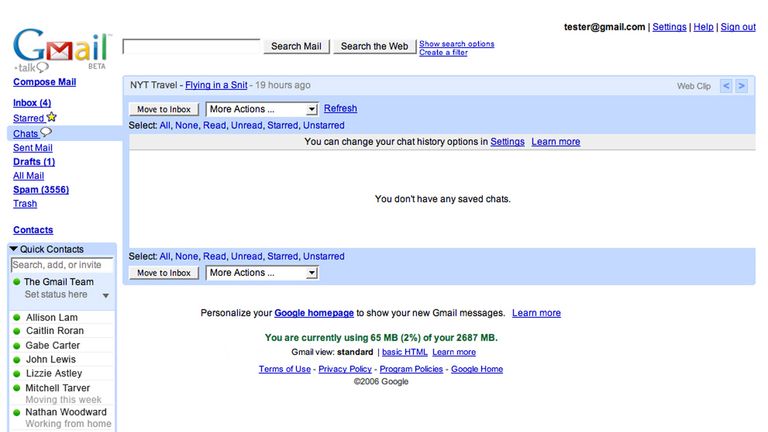 5. Getting around (2005)
Not content with changing how we navigate the web, Google started to change how we navigate the real world with Google Maps and Google Earth.
The former is now de-facto satnav for commuters and delivery drivers alike, while the latter gave anyone with a computer the chance to explore far-flung parts of the world in 3D.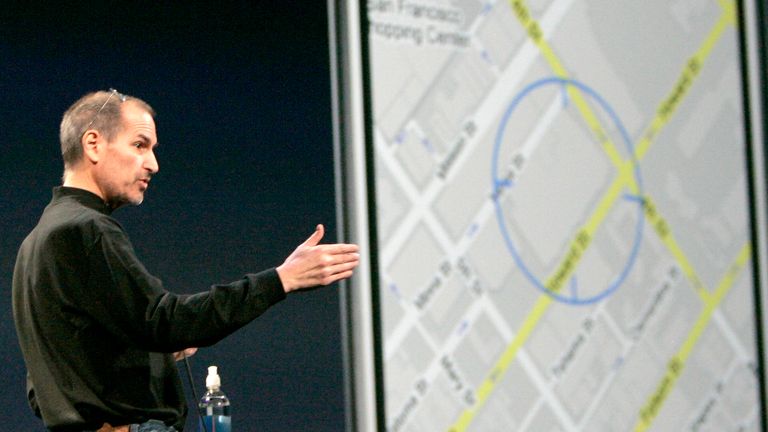 6. Android joins the family (2005)
Another 2005 milestone that deserves its own slot on the list is Google's $50m purchase of Android, which some might say is one of the most important moments in the history of mobile phones.
It's the backbone of just about every non-Apple handset, and batted away competitors like Microsoft and Nokia to become the iPhone maker's only real rival.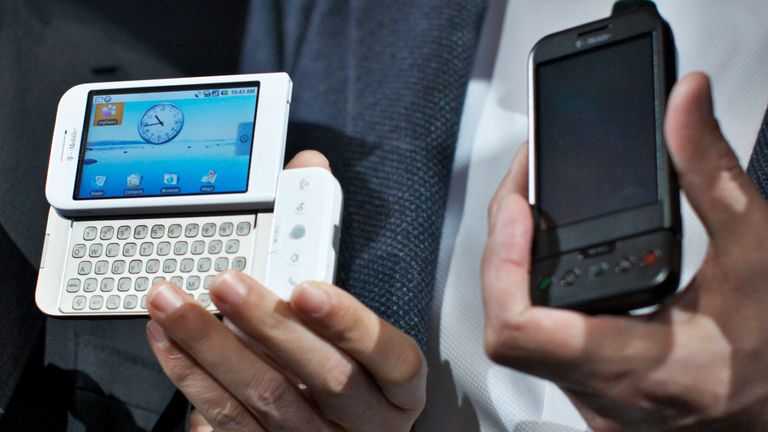 7. And so does YouTube (2006)
Just a year later, Google made another significant purchase: YouTube for $1.65bn.
The internet's most ubiquitous video platform has been the backbone of the creator economy for years now, and created an entirely new breed of celebrity. And you can watch Sky News there, too – all day, every day.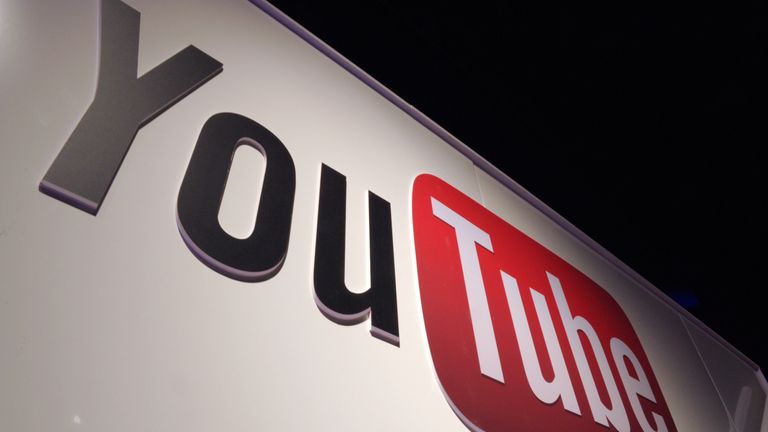 8. The great firewall of China (2006)
One place you can't watch YouTube is China, as it has fallen victim to the country's infamously tough restrictions on what its citizens can see online.
Not that Google didn't try to make it work, launching a highly censored version of its search engine there in 2006, before shutting down four years later after criticism from US politicians.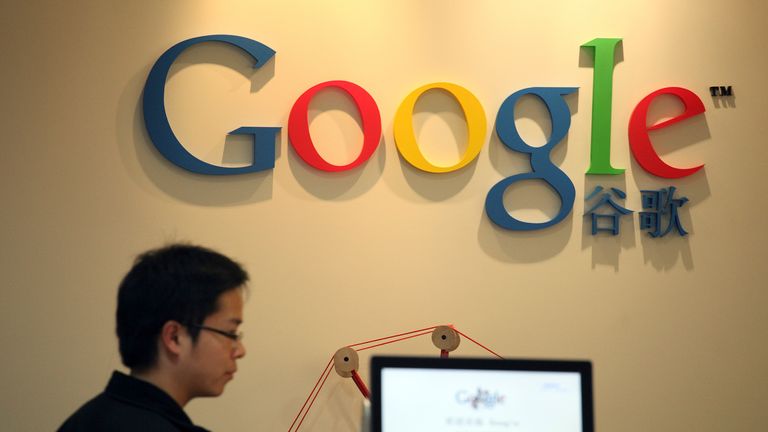 9. I'm a real word! (2006)
The final entry in a trifecta of 2006 milestones is Google's addition to the Oxford English Dictionary in 2006.
Listed as a verb, the dictionary entry said: "To use the Google search engine to find information on the internet. To search for information about (a person or thing) using the Google search engine."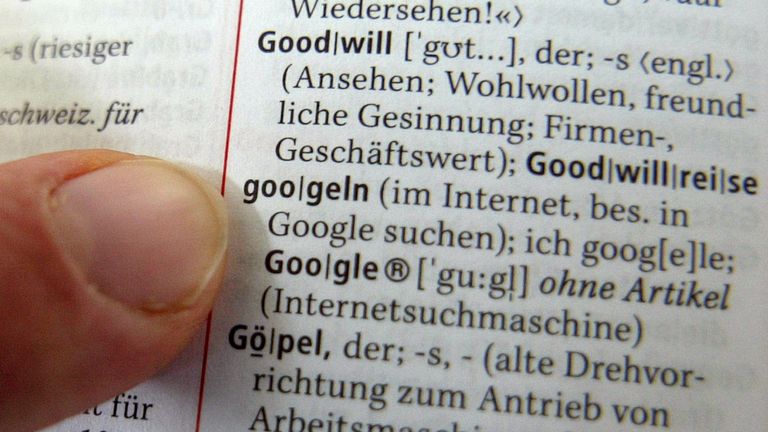 10. The streets won't forget (2007)
Google Maps was bolstered by the launch of Street View in 2007, which saw the company send out cars with huge cameras strapped to the top of them to capture pictures of the world's roads.
You have probably seen them out and about over the years – and may even have ended up on Street View itself…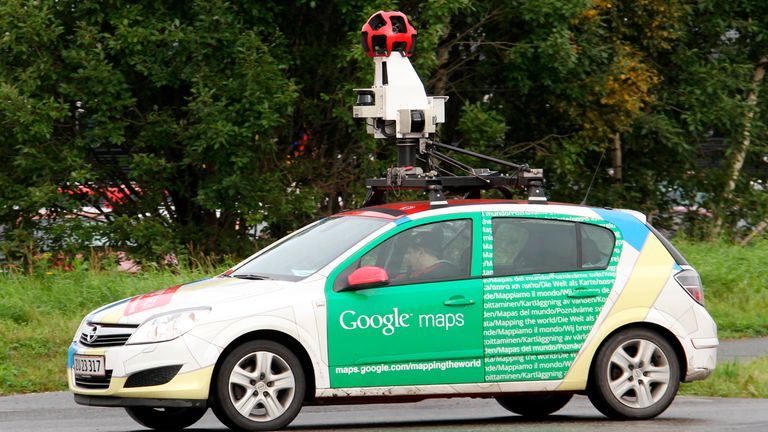 11. Chrome is where the heart is (2008)
Much as Gmail has become many people's preferred email client, so too has Chrome become the browser of choice since launching back in 2008.
Its dominance of the market is quite something given it's not the default option on Windows PCs or Apple Macs, although anyone with the latter's laptops will tell you no other software drains the battery quite like it.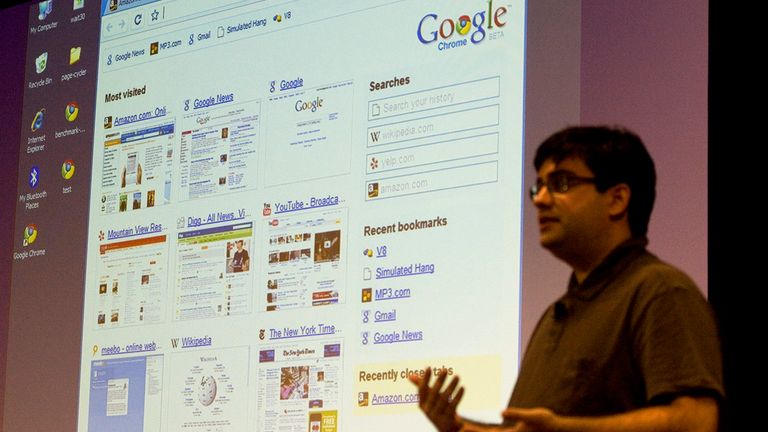 12. Google's first smartphone (2010)
Five years after buying Android, Google took its own stab at making a phone that ran it with the Nexus.
It was pitched as the purest Android experience you could get, providing rapid updates whenever the latest version (always named after a dessert) was released.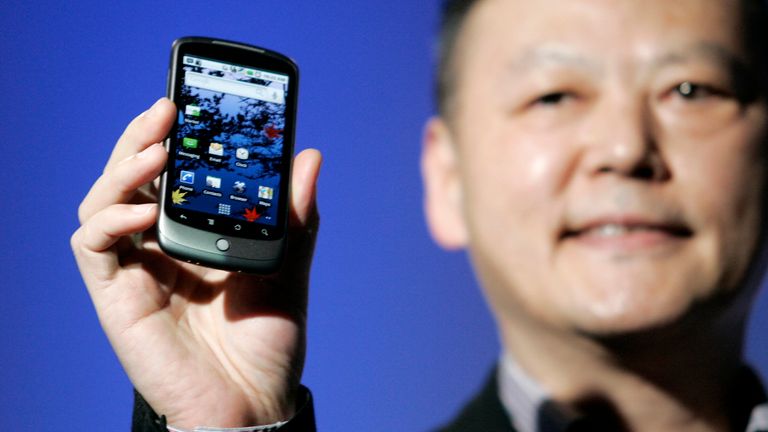 13. Chrome's not alone (2011)
The Chrome name was unshackled from the web browser market in 2011 as Google began work on a computer operating system to rival Windows and macOS.
Chrome OS has since become the backbone of Google's Chromebook laptops, which are especially popular in universities and schools.
14. The launch of the Play Store (2012)
Google's answer to Apple's App Store opened in 2012, replacing Android Market. The timing turned out well, as that year also saw the launch of a certain game called Candy Crush.
The Play Store raked in a whopping $42bn in revenue last year.
15. Remember Google Glass? (2012)
Google might be one of the world's biggest companies, but its history is littered with failed experiments.
One of the most notable is Google Glass, its high-tech spectacles powered by augmented reality that were first introduced back in 2012 and killed off three years later. Clearly no one told Apple what people thought of them.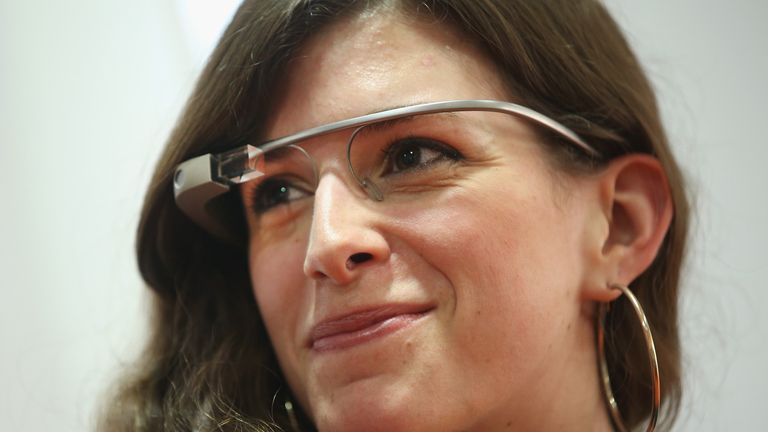 16. In at the deep end (2014)
It wasn't as immediately eye-catching as its purchase of YouTube or Android, but Google snapping up British AI research company DeepMind now looks rather prescient.
Its team is key to Google's overarching AI strategy as it looks to compete with rivals like OpenAI and Microsoft.
Be the first to get Breaking News
Install the Sky News app for free
17. A new look (2015)
Google got a major makeover in 2015, with a new logo across its search engine and other products.
It was also the year of a major restructuring, as the company folded itself into a new company called Alphabet alongside other divisions, like the smart home platform Nest.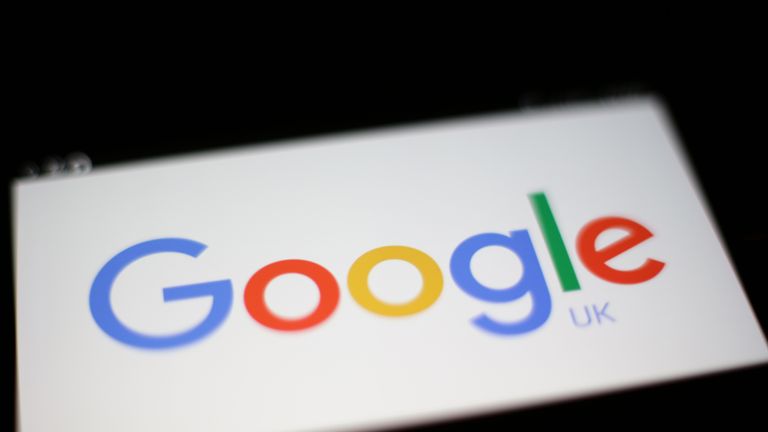 18. Pixel perfect (2016)
Google started making its own phones with the Pixel, replacing the old Nexus branding and joining its recently launched smart speakers – Google Home – on shop shelves.
The annoying adverts about removing chips from your photos didn't arrive until six years later but they haven't put people off the phones, with the next version due in just a few weeks.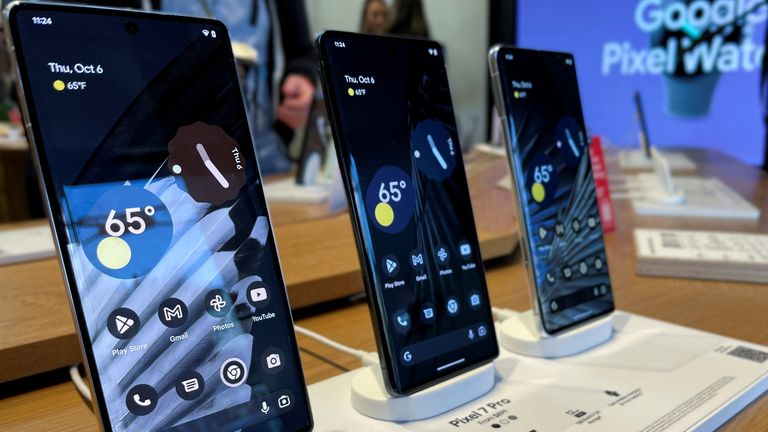 19. Waymo (2016)
Google's driverless car project was spun off into a company called Waymo in 2016, with the aim of taking the technology mainstream.
Seven years on and its fleet of taxis are working the streets of San Francisco 24/7, despite occasional navigational problems that have blocked traffic and even delayed emergency services.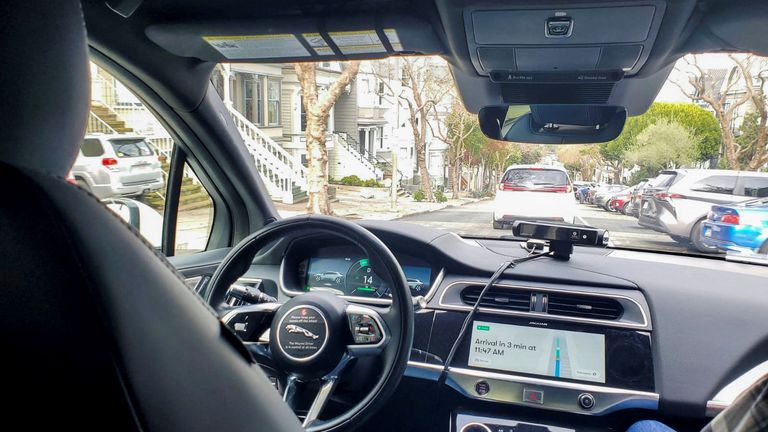 20. EU inflicts record fine (2017)
Politicians and regulators have taken a tougher stance on big tech in recent years, and Google has been made an example of on more than a few occasions.
The EU hit it with a record £2.1bn fine in 2017 for favouring its own shopping service in its search results.
21. Big earnings – but another big fine (2018)
Alphabet reported $100bn in annual sales for the first time in Google's history in 2018, largely thanks to ads.
It certainly made another record fine from the EU easier to stomach, as it inflicted a £3.8bn penalty for forcing Android phone makers to pre-install Google apps.
22. End of an era (2019)
Co-founders Page and Brin relinquished control of Alphabet in December 2019, handing the reins over to Google's chief executive Sundar Pichai.
He still leads the company and is one of the highest-paid tech bosses in the world, while this year saw him attend meetings with world leaders including Rishi Sunak to discuss the potential and threats of AI.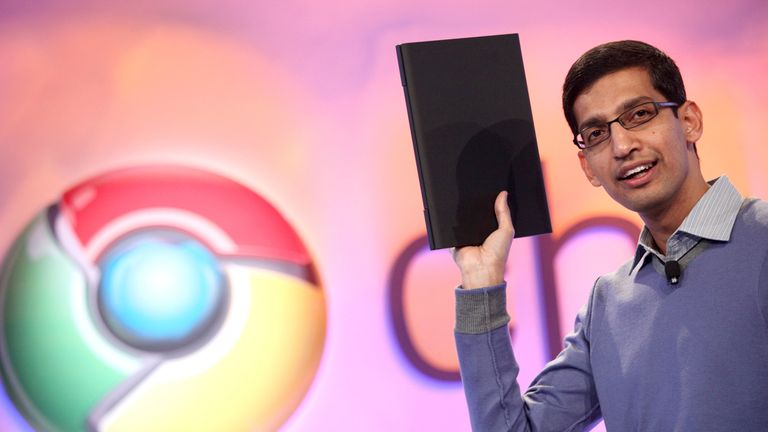 23. 'Sentient' AI (2021)
Speaking of AI, Google's work in the field made headlines in 2021 when a senior engineer was sacked for claiming the company's chatbot was "sentient".
The company said Blake Lemoine's claims about LaMDA (its GPT-style language model for engaging in human-like conversations) were "wholly unfounded".
24. The death of Stadia (2022)
Google's attempt to gatecrash gaming with a Netflix-style streaming service called Stadia was announced in 2019.
However, it flopped in the face of competition from established platforms PlayStation, Xbox, and Nintendo.
Its demise was confirmed in 2022 and the service shut down in January, joining a long line of Google products like Glass and would-be Facebook rival Google+ on the scrap heap.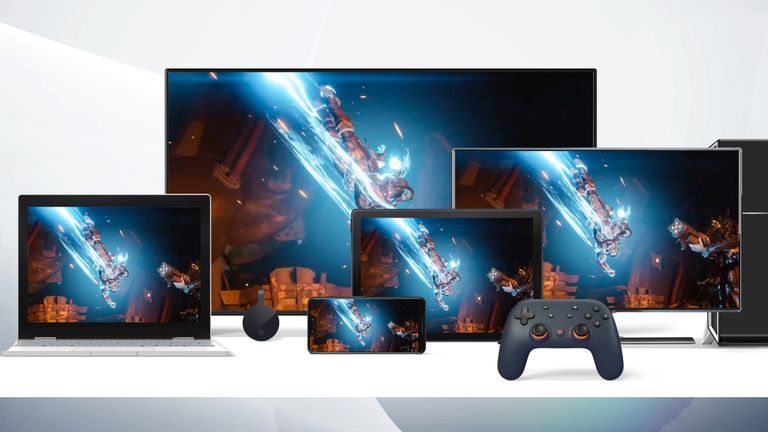 25. The Bard will see you now (2023)
Google's internal work on LaMDA came to fruition earlier this year with the release of Bard.
The chatbot's launch was fast-tracked following the success of OpenAI's ChatGPT and is becoming integral to Google's business model, integrated into everything from Gmail to Docs.
Whatever happens next for Google, it's clear Bard – and AI – will be key.