Increasingly long and hot summers are raising the risk of disease-carrying mosquitoes becoming established in Britain, the UK Health Security Agency (UKHSA) has warned.
The tiger mosquito, which transmits several fatal "tropical" diseases, has already spread to 13 countries within the European Economic Area (EEA) since first becoming established in Italy in 1990.
Paris last week became the latest city to fumigate some neighbourhoods amid fears that breeding colonies could lead to an outbreak of dengue fever.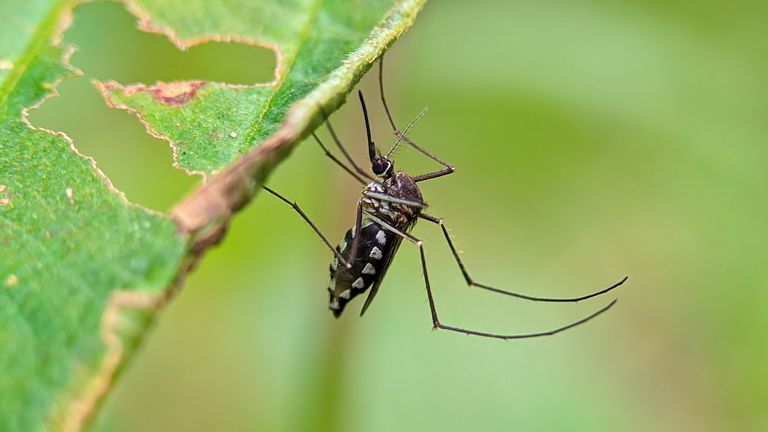 The viral infection is already spreading in the south of France. More than 50 indigenous cases have been reported over the last two years, including a British woman who had been on holiday in the Nice area.
In Britain, Several adult tiger mosquitoes have been found in traps monitored by the UKHSA at rail terminals, ports and motorway service stations. But so far there have been no established colonies in the UK.
Jolyon Medlock, chief medical entomologist at the UKHSA, told Sky News: "With climate change, as the summers warm and the seasons lengthen, every time these mosquitoes come into the country there is greater potential for them to become established."
Scientific modelling done by the Liverpool School of Tropical Medicine suggests the tiger mosquito will become established across much of England and south Wales within 50 years.
It could even be "abundant" in London in hot summers.
To try to slow their spread the UKHSA and local authorities take swift action when the mosquitoes are spotted.
"If we find them then we have a contingency plan to eliminate them," said Dr Medlock.
"Unless you get in there at an early stage the mosquito will establish. Before we know it, we will have mosquitoes all over the country."
The Climate Show: Are national parks good for nature?

There are 36 species of mosquito in the UK, but although they bite – they are harmless.
However, a species of Culex mosquito that can spread West Nile virus began breeding in some areas of the Thames estuary in 2010.
West Nile virus usually causes flu-like symptoms, but can occasionally result in a brain infection.
Sky News joined scientists as they monitored a marsh in North Kent.
We found Culex larvae – immature mosquitoes – in drainage ditches, and adults in monitoring traps.
"This is the warmest part of the country and an ideal wetland habitat.
"The virus also thrives at high temperatures.
"Most of the outbreaks are in warmer areas of the Mediterranean. With climate change and the potential for very hot summers that may also happen in the UK."
Click to subscribe to ClimateCast with Tom Heap wherever you get your podcasts
Read more: Heatwave could bring highest temperature of the year this week
But it is the tiger mosquito that the UKHSA is most concerned about.
It lives in urban areas, allowing it to spread diseases to large numbers of people.
That includes dengue fever, with more than 3.7 million cases and 2,000 deaths worldwide so far this year, according to the European Centre for Disease Prevention and Control.
The mosquito also transmits chikungunya, which has caused more than 300 deaths this year, and the Zika virus, which causes birth defects.
The London School of Hygiene and Tropical Medicine has a secure breeding colony of the mosquitoes, so they can be closely studied.
Dr Oliver Brady, a specialist at the hospital, said mosquitoes are such efficient carriers of diseases that they can lead to huge outbreaks.
"These are all acute diseases that are rarely fatal but can be very, very severe and lead to prolonged hospital stays.
"If we were to cycle back five or ten years, we would have thought Zika was just a minor disease.
"But because these mosquitoes are spread across such broad parts of the world, what historically is a mild disease can now have the potential to be a pandemic."