China has launched its youngest ever crew into space ahead of its planned moon mission in 2030.
Beijing's Shenzhou 17 spacecraft took off in a Long March rocket from the Jiuquan Satellite Launch Centre on the edge of the Gobi Desert at 11.14am (3.14am UK time) today.
Tang Hongbo, Tang Shengjie and Jiang Xinlin will replace the astronauts on the Tiangong space station, who have been there for three months.
The replacement crew's average age is 38, state media China Daily said.
Beijing hopes to send a manned mission to the moon and plans to build a base on the lunar surface.
Lin Xiqiang, spokesperson and deputy director general of the China Manned Space Agency, said the "goal of landing Chinese people on the moon by 2030 will be realised as scheduled".
The astronauts, the 17th China has sent to the space station, will conduct experiments in space medicine and space technology during their mission and will help install and maintain equipment.
Read more from Sky News:
Tim Peake hints at ending retirement
NASA launches Psyche mission to rare metal asteroid
On Wednesday, China announced it will also send a new telescope, dubbed Xuntian, to Tiangong and co-orbit it.
Bill Nelson, NASA's administrator, sounded the alarm earlier this year over China's push to get ahead in the space race.
Speaking to Politico in January, he said: "It is a fact: we're in a space race. And it is true that we better watch out that they don't get to a place on the moon under the guise of scientific research.
"And it is not beyond the realm of possibility that they say, 'Keep out, we're here, this is our territory."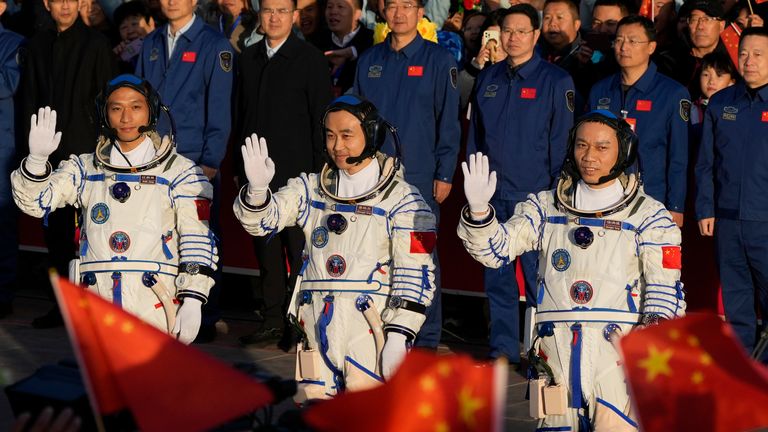 In May, a Chinese spacecraft returned to Earth after nearly a full year in orbit, spending 276 days in space.
State media said the uncrewed spacecraft returned to the Jiuquan launch centre in northwest China as scheduled.
It first launched in early August 2022, however, no details were given on what the spacecraft was, what technologies were tested and how high it flew into space.