Apple has seen around $200bn (£160bn) wiped off its value after China extended its curbs on iPhone use by government workers.
Shares in the tech giant have tumbled by 6.4% over the last two days in response to Beijing ordering some state employees to stop using the devices.
The move has fuelled fears Apple and its suppliers could pay a commercial price for continuing tensions between the US and China and growing competition from rival Huawei, which has just launched two new smartphones.
The move comes just days before Apple is expected to launch its new iPhone 15.
And it signals a comeback by China's "national champion", after Huawei's smartphone business suffered a slump when the firm was placed on a trade blacklist over national security concerns in 2019.
It has been reported that officials at central government agencies and state-owned companies have been ordered not to use iPhones or other foreign-branded phones.
An employee at an affected firm told the Reuters news agency the ban had also been extended to visitors.
The source said the company was paying staff up to 200 yuan (£22) to switch to local brands.
While the number of central government employees is not public, Bank of America estimated such a ban could cut iPhone sales by up to 10 million a year from China's annual total of around 50 million.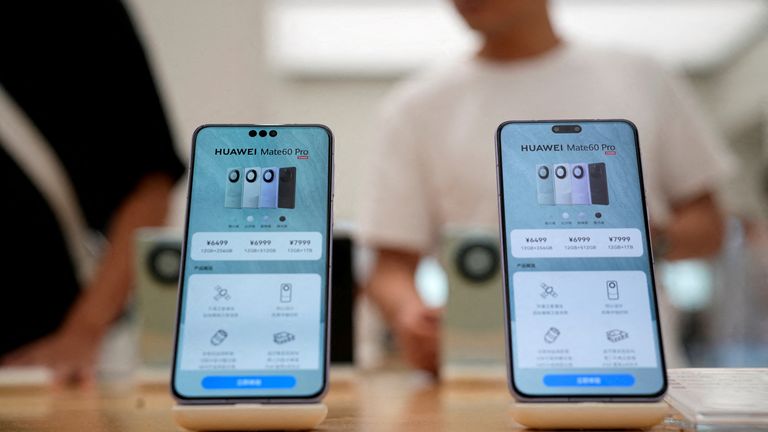 By contrast, Huawei's smartphone sales, driven by the new Mate 60 Pro, could leap 65% this year to 38 million, in the absence of some "non-commercial risks", said Ming-Chi Kuo, an analyst at TF International Securities.
Victoria Scholar of Interactive Investor, a UK investment platform, said: "Beijing is looking to reduce its dependence on US technology, but this (ban) acts as a significant headwind to Apple as China is its largest international market and accounts for about 20% of its revenues."
When asked about the ban at a daily briefing in Beijing, Chinese foreign ministry spokesperson Mao Ning said "products and services from any country are welcome to enter the Chinese market as long as they comply with Chinese laws and regulations".
Read more:
Rare Apple trainers go up for sale
Apple sued for $1bn by UK-based app developers
Several Wall Street analysts said the curbs show that even a company with good relations with the government and a large presence in the world's second-biggest economy was not immune to frictions between the two nations.
These have been heightened in recent years as Washington has sought to limit China's access to key advances, including cutting-edge chip technology, while Beijing looks to cut reliance on American tech.
The US Commerce Department is seeking more information on the "character and composition" of the new chip in the Mate 60 Pro, that some believe could not have been produced without prohibited US technology.