Apple has announced its new iPhone 15 range with a USB-C charging port, ditching its lightning standard to comply with EU rules.
It marks the first time since 2012 that the tech giant has changed the connector on its flagship device.
The switch had been anticipated since last year, when the EU mandated that all portable electronics sport a universal connector by the end of 2024 to reduce e-waste and simplify life for consumers.
Apple had opposed the requirement but acknowledged it would have to follow it – and confirmed the change at its iPhone unveiling event on Tuesday.
Apple's Kaiann Drance said the company was bringing USB-C to iPhone 15 because it "has become a universally accepted standard".
The iPhone 15 range mirrors that of the 14, with a standard 6.1″ model (£799); a 6.7″ plus version (£899); and more powerful pro incarnations with the same screen sizes (£999 and £1,199).
All four will have USB-C connectors when they release on 22 September.
ANALYSIS: APPLE HAS TO GET USED TO NOT DOING THINGS ITS OWN WAY
By Arthi Nachiappan, technology correspondent
Life is becoming trickier to navigate as a tech giant.
While the biggest among them have developed a reputation for doing things their own way, rising geopolitical tensions and varied regulations across the world are significantly impacting the way they do business.
The forced change in Apple's iPhone design to include a USB-C charger is just one example.
Regulators across the world differ vastly in their approach to regulating online safety and nascent policies to govern artificial intelligence.
Just last week, Apple's value dropped by £160bn after escalating tensions between America and China threatened to restrict sales in one of its biggest markets.
Investors were concerned that reports of the Chinese government clamping down on use of the American devices by state employees may have a wider effect.
Sam Sharps, executive director of policy at the Tony Blair Institute think tank, said: "Like any of the really big tech companies, it's almost a geostrategic actor in itself.
"It has the size and heft of a country and its relationships with the major powers and the different countries around the world start to become incredibly important."
He added: "Apple, to a certain degree, is reliant on its relationship with the Chinese government, partly because of the supply chain and all the manufacturing that goes on in China, but also because it's a gigantic market for Apple."
Move risks 'mountains of e-waste'
Adopting USB-C brings the iPhone in line not just with other Apple products like the latest Macs and iPads, but with rival Android phones; cameras and laptops; e-readers like Kindle; and games consoles like Nintendo Switch.
Apple also used the event at its California headquarters to reveal the iPhone's standard wired earphones and the charging case for its AirPods Pro earbuds would change to USB-C.
While an increasing number of devices use it, some experts have expressed concern about the number of cables that could become obsolete in the short term.
Ed Hoppitt of cloud computing firm VMware said it could create "mountains and mountains of e-waste".
"Since the lightning cable was introduced with the iPhone 5 in 2012, countless Apple phones, devices, headphones, adapters, and other accessories have used it," he said.
"When Apple dropped the old 30-pin connector in 2012, they had sold 610 million devices that used it.
"Since 2021, they have sold over two billion iPhones alone."
Be the first to get Breaking News
Install the Sky News app for free
Apple moved to get ahead of the criticism by announcing a number of environmental initiatives at the event, such as ceasing production of leather phone cases and watch straps.
The new Apple Watch Series 9 will be its first carbon-neutral device, and the US tech firm vowed to become entirely carbon-neutral by 2030.
Industry expert Ben Wood, chief analyst at CCS Insight, said the switch to USB-C would prove to be a "victory for common sense" in the longer term.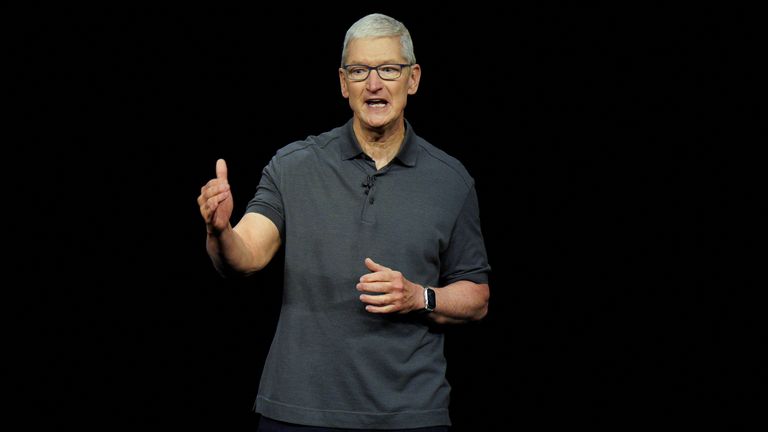 New cameras and colours among familiar announcements
Besides the adoption of USB-C, Apple touted usual improvements to tempt iPhone users to upgrade.
Apple said the standard and plus iPhone 15 had a 48 megapixel camera, a telephoto lens with two-times zoom, and a screen twice as bright as their predecessors.
Every iPhone 15 model also gets the "dynamic island" that was limited to the 14 Pro. This replaces the notch with a smaller cutout in the screen, and changes how notifications look when they arrive.
The devices' satellite connectivity, allowing users to make calls without mobile coverage, will also now be able to summon roadside assistance in remote areas – but this is limited to the US for now.
Most importantly, given this year's Barbie hype, pink is among the new colours.
For the pro model, it will have a new titanium case, a customisable action button to replace the mute switch, more advanced camera with five-times optical zoom, an even brighter screen, and faster chip.
Shares down slightly after lack of surprises
The £399 Apple Watch Series 9's headline feature is being able to detect tiny changes in the wearer's blood flow to sense when they double tap their index finger and thumb.
The gesture acts as a shortcut for anything from starting a stopwatch to answering a call, keeping the wearer's other hand free for other tasks.
The Apple Watch Ultra 2, meanwhile, is a follow-up to last year's wearable aimed at fitness fanatics priced £799, but upgrades appeared modest compared to the previous version.
The new watches will join the iPhone 15 on shop shelves on 22 September.
The announcements didn't go beyond what was expected ahead of the event, and shares were down 1.7% after the opening hour.
Apple could still announce new iPads before the year is out, while its £2,800 mixed-reality headset revealed earlier this summer is due in early 2024.